Remote Monitoring and Management for System Integrators
Helping system integrators provide valuable integrated monitoring and NOC services to their offerings.
Expand your revenue opportunities with an all-in-one monitoring solution
As a systems integrator, you take pride in providing professional installation and maintenance services for your clients. Now, to generate recurring revenue streams, you want to offer remote monitoring solutions, but you need the tool to do so confidently.
Peel-It provides system integrators with an intuitive platform to manage, monitor, and troubleshoot critical equipment remotely. AI-powered monitoring software and a 24x7 NOC enables your team to have a 24x7 presence, quickly diagnose issues, and take action in real-time - no matter where they are located or if its outside your office hours.
With Peel-It, you can extend your services and quickly start monitoring equipment at scale. Using intelligent software with an integrated virtual NOC, system integrators have the visibility to ensure customer systems are functioning as efficiently as possible.
With Peel-It, you can monitor:
Distributed Antenna Systems (DAS)
Emergency Responder Radio Communication System (ERRCS)
Private networks (4G and 5G)
IoT devices
Backup power, UPS, DC power systems, and generators
Smart building infrastructure
HVAC, environmental sensors, and BAS
Network infrastructure, including routers, switches, and firewalls
Access control and security systems
Key Features
The Peel-It platform is simple for system integrators to use for all their remote monitoring needs, offering a wide range of features and functionalities: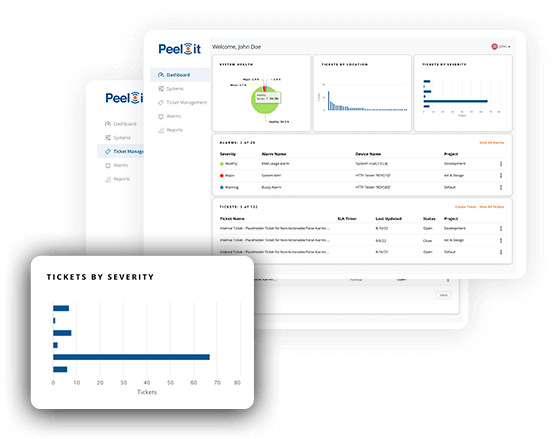 Real-Time Remote Monitoring
Monitor multiple systems simultaneously with one centralized platform.

Integrated Virtual NOC Support
Resolve network issues quickly with 24X7 technical support.

AI-Powered Reporting
Generate custom reports for multiple types of disparate systems, all from a user-friendly dashboard.
Event Management and Ticket Resolution
Create, view, and manage trouble tickets directly through the platform for added convenience.

Flexible Deployment Options
Choose a deployment option that best suits your operational needs (on-prem, cloud, hybrid).
Ready to monitor your customer's critical systems with confidence?