Remote Monitoring and Management for Telecommunications
Helping wireless carriers monitor critical equipment at scale
Ensure network availability with intuitive system monitoring software
From Distributed Antenna Systems (DAS) to small cells, wireless carriers must manage a diverse mix of critical equipment to ensure optimal network performance. As wireless carriers compete over network quality, it's essential they have the right tools to prevent downtime and network issues hindering end-user experience.
Peel-It provides a suite of remote monitoring, analytics, and management tools that help wireless carriers gain visibility into their equipment and networks. Intelligent monitoring software empowered by a 24x7 NOC enables your team to quickly diagnose problems and take action in real-time.
With Peel-It, you can monitor:
Distributed Antenna Systems (DAS)
Tower and cell site
Small cell networks
Private networks (4G and 5G)
Lighting systems
Access control and security systems
HVAC, environmental sensors, and BAS
Backup power, UPS, DC power systems, and generators
Network infrastructure, including routers, switches, and firewalls
Key Features
The Peel-It platform is simple for wireless carriers to use for all their remote monitoring needs, offering a wide range of features and functionalities, including but not limited to: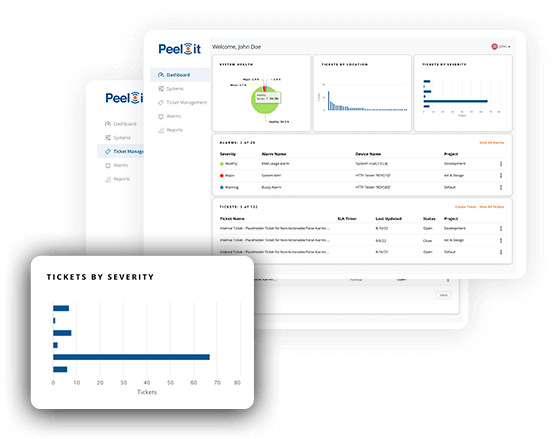 Real-Time Remote Monitoring
Track multiple systems simultaneously with one centralized platform.

Integrated Virtual NOC Support
Resolve network issues quickly with 24X7 technical support.

AI-Powered Reporting
Generate custom reports for multiple types of disparate systems, all from a user-friendly dashboard.
Event Management and Ticket Resolution
Create, view, and manage trouble tickets directly through the platform for added convenience.

Flexible Deployment Options
Select a deployment option that best suits your operational needs (on-prem, cloud, hybrid).
Ready to Simplify Network Monitoring and Management?