Remote Monitoring and Management for EV Charging
Helping you monitor your EV Charging Equipment at scale
Ensure Charger availability with intuitive system monitoring software
Enhance the uptime and reliability of your EV charging infrastructure with Peel-It's approach to Remote Monitoring and Maintenance. Monitor the health and key performance indicators of your EV chargers and support systems with AI empowered insights. The 24/7 support of our Network Operations Center that will create tickets to notify your team and can dispatch internal or external resources to maximize uptime and utility.
Peel-It's manufacturer agnostic approach is ideally suited to today's fragmented and expanding EV charging market, which provides the ability to monitor the variety of chargers that are appropriate for your unique use cases. Allowing you and your key stakeholders to have visibility for remote monitoring, analytics, and management with the insight of AI and the focus of a 24x7 team optimizing the return on your EV charging investment
With Peel-It, you can monitor:
EV Charging Station
Distributed Antenna Systems (DAS)
Tower and cell site
Small cell networks
Private networks (4G and 5G)
Lighting systems
Access control and security systems
HVAC, environmental sensors, and BAS
Backup power, UPS, DC power systems, and generators
Network infrastructure, including routers, switches, and firewalls
Key Features
The Peel-It platform is simple for you to use for all their remote monitoring needs, offering a wide range of features and functionalities, including but not limited to: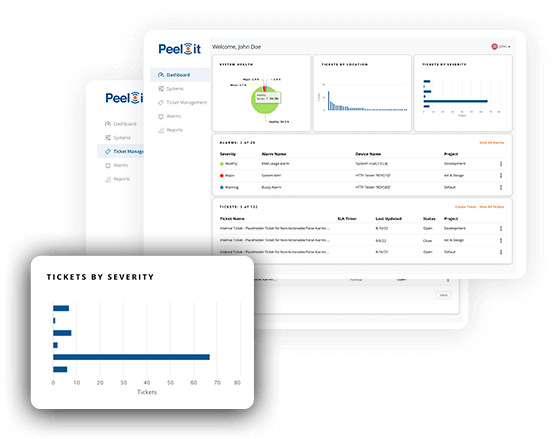 Real-Time Remote Monitoring
Track multiple systems simultaneously with one centralized platform.

Integrated Virtual NOC Support
Resolve network issues quickly with 24X7 technical support.

AI-Powered Reporting
Generate custom reports for multiple types of disparate systems, all from a user-friendly dashboard.
Event Management and Ticket Resolution
Create, view, and manage trouble tickets directly through the platform for added convenience.

Flexible Deployment Options
Select a deployment option that best suits your operational needs (on-prem, cloud, hybrid).
Ready to Simplify Network Monitoring and Management?