Remote Monitoring and Management for Public Safety
Providing in-depth alarming and KPI's to public safety system operators and building owners
Proactively monitor two-way radio systems and Emergency Responder Radio Communications Systems (ERRCS)
Police, fire, medical personnel, and other first-response agencies need continuous communication to serve and protect their communities. Without a monitoring solution, public safety agencies will remain unaware of any potential network issues until they cause substantial disruptions in operations.
The Peel-It Platform ensures that any issues with your mission critical communications systems is detected and addressed quickly and efficiently. Our advanced monitoring approach utilizes machine learning and artificail intelligence to provide actionable insights on all components of a mission critical communications system.
With intelligent tools and an integrated virtual NOC, the Peel-It platform helps public safety organizations maximize critical network uptime to keep their communities safe.
With Peel-It, you can monitor:
Emergency Responder Radio Communication System (ERRCS)
Bi-directional amplifiers (BDAs)
Distributed Antenna Systems (DAS)
Backup power, UPS, DC power systems, and generators
Two-Way Radio Networks
Environmental sensors
HVAC systems
Repeaters
Backhaul Microwave and Network Connectivity
Key Features
Peel-It is simple for public safety agencies to use for all their remote monitoring needs, offering a wide range of features and functionalities, including but not limited to: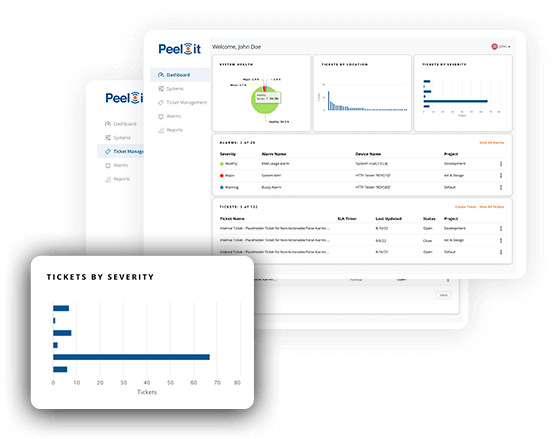 Real-Time Remote Monitoring
Track multiple systems simultaneously with one platform.

Integrated Virtual NOC Support
Resolve network issues quickly with 24X7 technical support.

AI-Powered Reporting
Generate custom reports for multiple types of disparate systems, all from a user-friendly dashboard.
Event Management and Ticket Resolution
Create, view, and manage trouble tickets directly through the platform for added convenience.

Flexible Deployment Options
Choose a deployment option that best suits your operational needs (on-prem, cloud, hybrid).
Ready to Remotely Monitor Your Public Safety Infrastructure?